Planning a journey
The concept for Bean2Baby focuses on a U.S.-based audience, and stems from the understanding that to be under-resourced means to be overwhelmed, and that therefore information design can play a crucial role in making vital information accessible to those who most need it.
The transition from pregnancy to parenthood is a social experience that has been lived billions of times worldwide since the dawn of humankind. Yet, for isolated individuals, living in a fractured society with fractured healthcare system, it turns out to be a lot harder than operating a complicated new appliance without a manual, or embarking on a journey to a new land without a travel guide.
And research has shown that, for the under-resourced in particular (and this may include anyone lacking time, social support or mental/physical wellness in addition to those lacking financial resource) the stress of thinking about and dealing with scarcity leaves very little mental space to learn new information or put it into practice.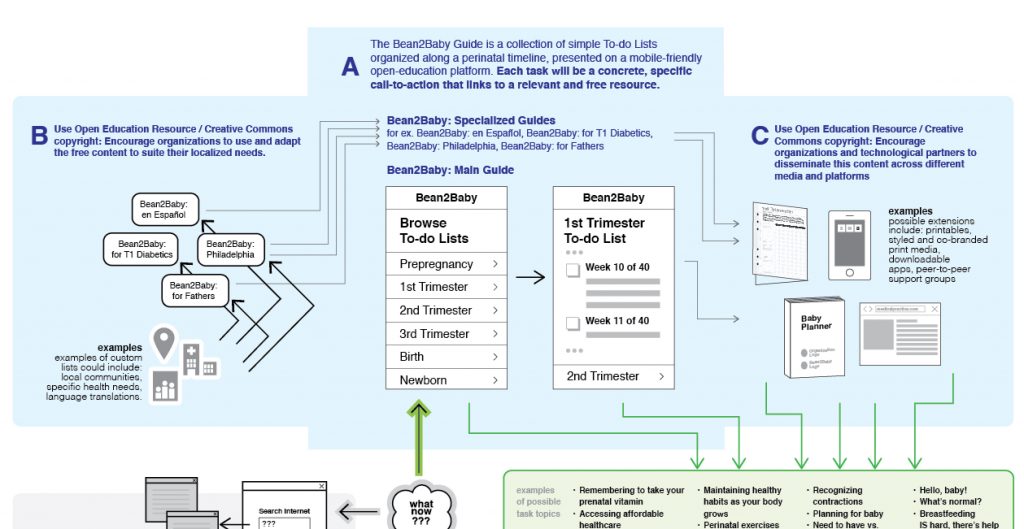 Health and community advocates across the U.S. are doing hard work compiling and communicating this information to their constituents, but with so many groups doing their own content development, their efforts can end up being "siloed."  This idea is designed to provide free content to organizations that target expectant parents in the United States, specifically under-resourced end-users.
Recognizing that mental load (aka cognitive load) is a significant barrier to entry in navigating a complex/ fractured healthcare system, this idea takes a user-centered approach. The educational information will need to be written in a special format: 1) as tasks, 2) progressively disclosed as needed, and 3) in a single, accessible, location with open-sourced content.
How is Bean2Baby perinatal information different?
What: This content will be written with the goal of facilitating actions, namely a) connecting users to the healthcare resources they need and b) learning to build healthy habits often under difficult circumstances.
When: Tasks will be categorized along a weekly (or daily) timeline and and grouped into the pregnancy stages (Prepregnancy, 1st Trimester, 2nd Trimester, 3rd Trimester, Birth, 1st Month Postnatal). There can also be categories for actions to be taken in the Morning, Afternoon and Night. Tasks that ought to be done consistently (eating healthy meals, staying fit, de-stressing) can appear multiple times to aid habit formation.
How: The format and writing of each Task is extremely critical to carrying out Bean2Baby's goals. Therefore, the Bean2Baby resource will also include guidelines for how contributors should write additional Tasks. Partnerships with trusted and non-advertising-influenced health organizations, a tight editing process and a style guide will ensure that each Task is consistently worded.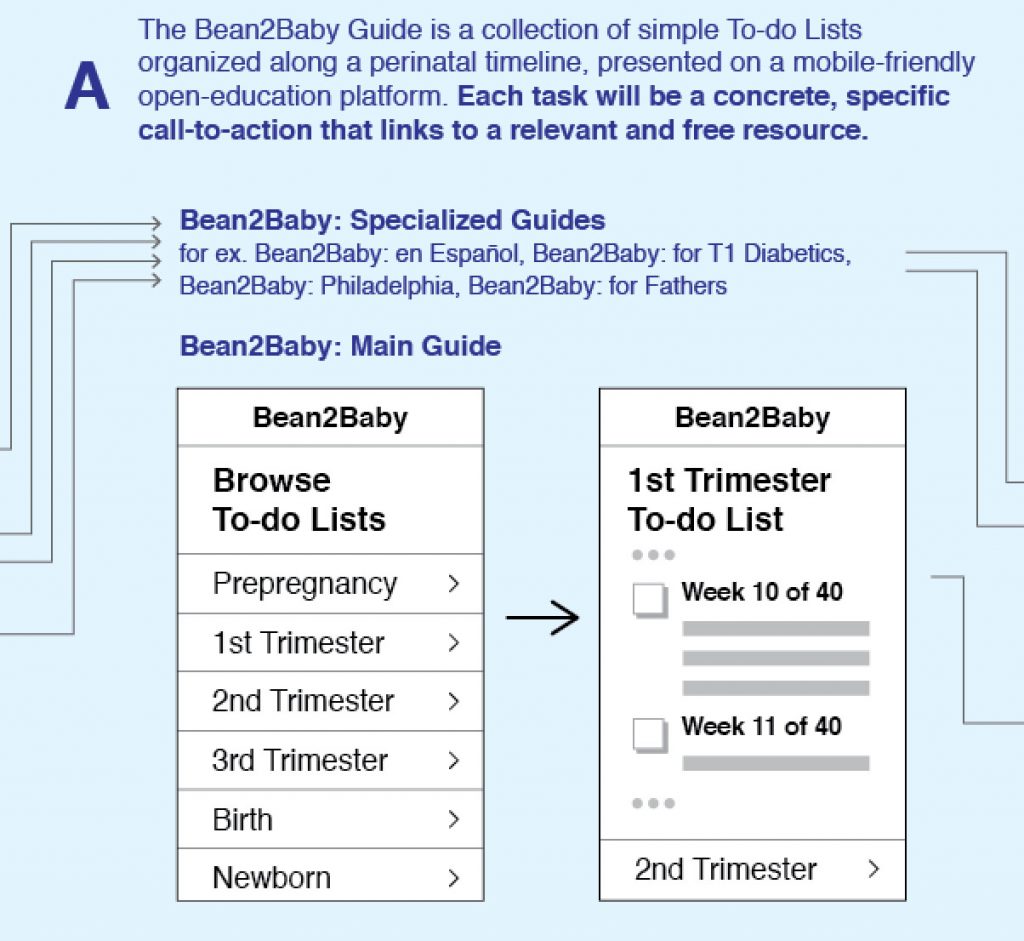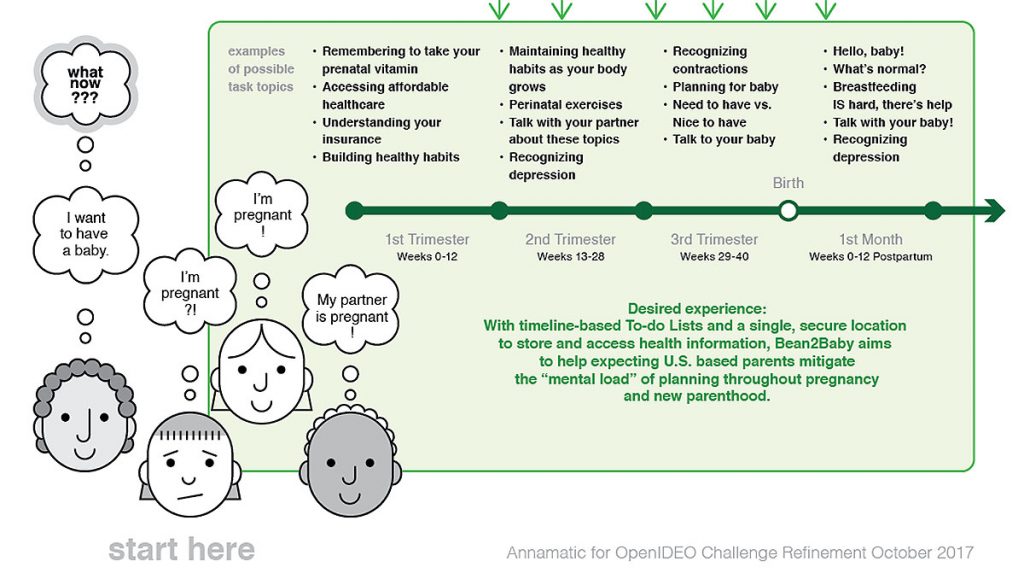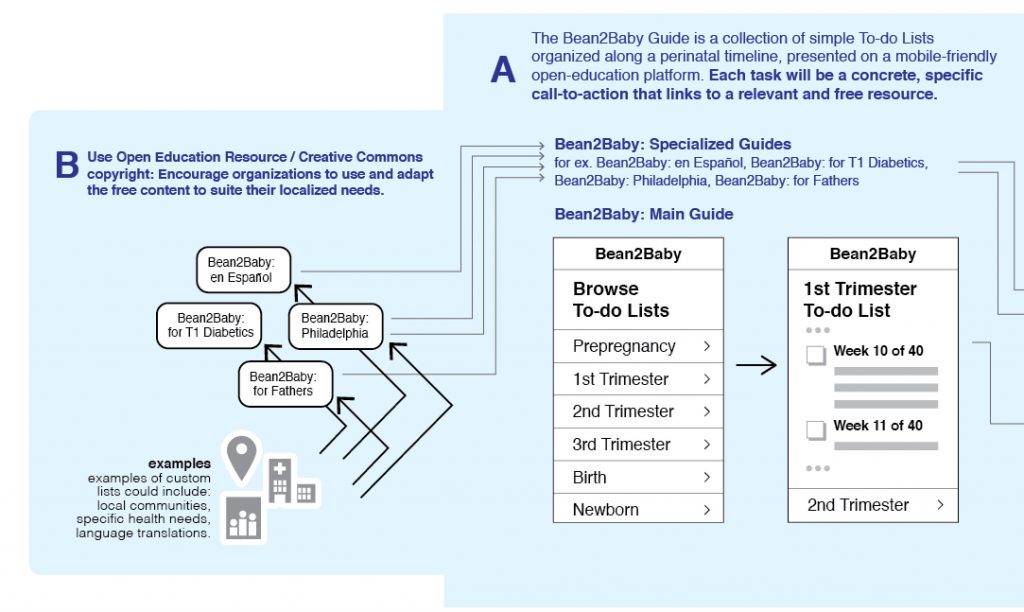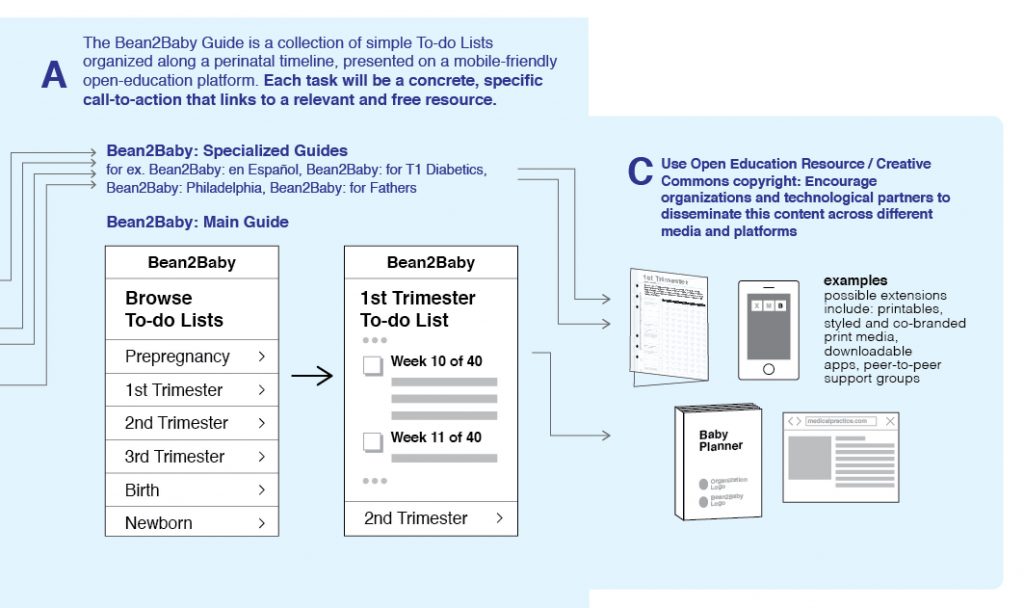 Using open resources
To create content for and disseminate content to those who need it the most, my hope is to create Bean2Baby To-do Lists as Open Education Resources (OER). OER are educational resources that are publicly available, free to use, and licensed to copy, adapt and distribute with no fee. They can be hosted on an open education network in partnership with a university — such as those hosted by NYU or University of Michigan — or they can be self-hosted.
Those who serve under-resourced populations are acutely aware of how time-, health-, food- and finance-poor individuals are additionally challenged by our information-saturated environment. The ultimate goal for Bean2Baby is for local community and patient advocacy non-profits to copy these To-do Lists and make them their own: edited to include addresses, phone numbers, hotlines or sign-up forms for local food, medical or crisis resources as well as to include Tasks that specifically deal with chronic illness, trauma, crisis, housing and safety. In sharing it back to Bean2Baby, they would also help under-resourced parents both locally and in other areas.
Want to help?
Are you a patient educator, community advocate, perinatal medical/nursing professional or instructional writer? Contact me if you'd like to help with any of the following…
Content development and editing: I am looking for input on what Task topics to develop and how best to edit the writing for under-resourced audiences, especially those with critical needs.
Product/project management: Want to adopt Bean2Baby? I think this idea would develop best under the auspices of a patient/health/community advocacy organization.